Ojcow National Park Private Tour
Poland's smallest National Park, Ojcow may also be the most beautiful one, with its traditional villages, deep forests, unusual rock formations, and a 14th century castle. Hike around and see the "Chapel on the Water," built atop a stream flowing from ancient baths, a unique limestone edifice known as Hercules' Club, and you'll visit the fairytale-like Pieskowa Skala Castle. This national park is just half an hour from Krakow, so you can wandering around, then have a coffee or lunch at one of its restaurants, and head back in the afternoon, or visit the impressive nearby Ogrodzieniec Castle, which made a cameo in The Witcher.
Morning run around Blonia Park and Park Jordana
These green spaces are popular among local hikers. Blonia is a triangular open space home to people looking for a workout, and dog owners, as the entire park is open to unleashed dogs. First one, triangle open space that is very famous for exercise enthusiasts, and also dog owners, as the man's best friends can run around without any boundaries. Just across the street is Park Jordana, founded in 1889 as the city's first public playground, but now much more.
Head four kilometers west of the Old Town, and you'll find the city's "lungs," the Wolski Forest. Venture within, and you'll find a 90-year old Zoo offering close encounters with more than 1,500 different animals. The Cafe outside the Zoo makes for a convenient refreshment stop before moving on. An easy 10-15 minute walk northwest of the Zoo stands the Pilsudski Mound. The forest's highest point, climb it and you'll be rewarded with great views.
The zoo can be reached via bus #134 (every 20-30 minutes) from the Hotel Cracovia stop near the National Museum.
Zoo admission prices:
April 1 – October 31: Normal ticket – 22 PLN 
November 1 – March 31: Normal ticket – 18 PLN
One-way bus ticket: 4.60 PLN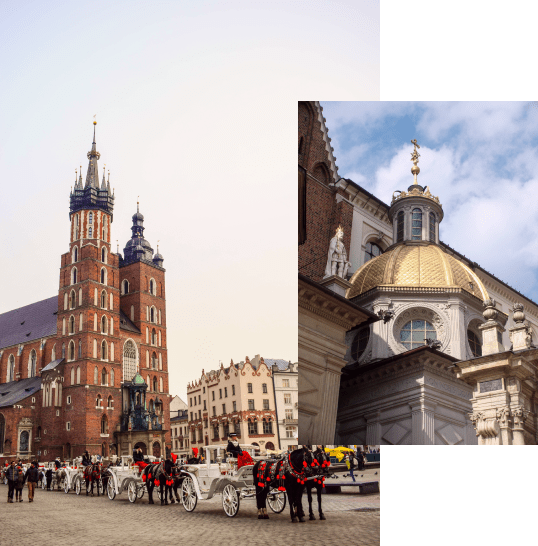 Wawel Hill/ Vistula Boulevards
Enjoy the picturesque Wawel Hill and the Vistula Boulevards (the Vistula River's wide, grassy floodplains), ideal places for a morning stroll between the Old Town and Kazimierz (the historically Jewish district). On the opposite side of the Vistula from the castle in the large concrete building of the former Hotel Forum, hides Forum Przestrzenie, which offers delicious breakfast, and grand vistas of the castle and the river from outside. Breakfast generally costs between 13 and 22 PLN.
Explore Krakow's Underground
The Main Square's Cloth Hall has a beautiful exterior, and hosts some good finds, but head underground and you can enjoy a modern, interactive exhibition covering the city's long past. The Rynek Underground not only shows life in the city in centuries long past (and even has a skeleton showing measures taken to prevent the deceased from coming back as a vampire) but covers Krakow's connection with other centers of trade and culture. Naturally, when you head back into the light, you can enjoy a cup of coffee at the Cloth Hall's balcony, or any of the surrounding cafes.
Prices:
Exhibition tickets: 24 PLN
Cup of coffee at the Cafe Szal: around 15 PLN
Discover Podgorze and the Plaszow concentration camp
While the countless tourists travel to Auschwitz every year to pay tribute to the victims of the Holocaust, few realize that the Podgorze district, within walking distance of Kazimierz, had its own concentration camp. Open from 1942 to 1945, Plaszow has been commemorated by the Torn Hearts Monument. Carefully dismantled by the fleeing Nazis, the camp lacks a museum, although an outdoor exhibit of 19 archival photographs with brief historical information offer some about the camp's layout and history.  
Start your day with a splash!
Seven days a week, as early as at 8 AM, you can visit Water Park. This vast swimming hall with slides is mostly aimed at kids, but offers a well-equipped sauna section, jacuzzis, and even offers swimming lessons.
Prices:
1 hour ticket for the swimming pool area + sauna: 46 PLN
2 hour ticket for the swimming pool area + sauna: 56 PLN
We're happy to offer many city tours to help you better discover your new home. These include tours by foot and electric vehicle, cooking classes, food tours, Jewish heritage tours, and even a Vistula River sightseeing cruise. Let us know your interests, and we'll be happy to send you further details.