Discover & Work in Greece
Greece is a country of tradition, history, and passions demonstrated in delicious food and spontaneous dancing making it a perfect environment for a Workation package any time of year. Popular for the islands and beaches, Greece has secret corners that highlight incredible cities, mountain towns, and unique islets where history can feel as lively as the wilderness and for an immersion into the past and an immersion into the pleasures of contemporary life. 
Taste local flavors focused on seasonal ingredients. Discover how nature borders everyday life. Wander ancient cobblestone streets on which philosophers and warriors walked. A Greece Workation can be opulent and decadent, quiet and secluded, or adventurous and exploratory based on the type of experiences you want.
Greece's breathtaking nature is not surprising, but the blend of natural splendor along the islands with the disregarded corners of the mainland offers an unforgettable place for a Workation. Highlights for Workation in Greece include: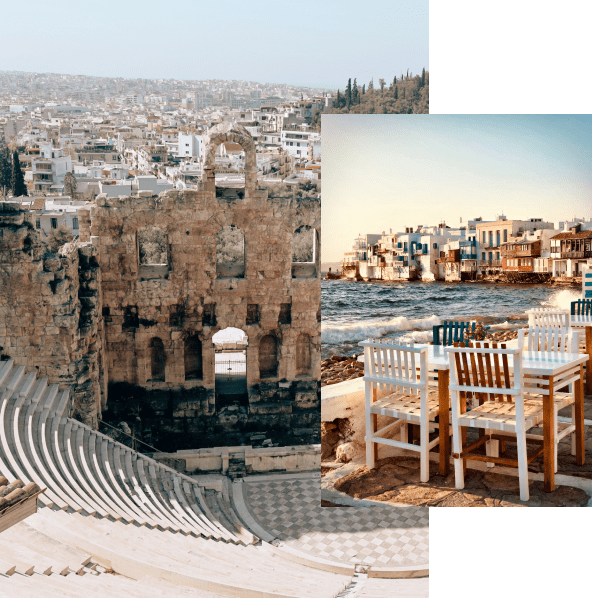 Greece is one of Europe's most popular destinations but still has districts, regions, towns, and cities that feel undiscovered by travelers and massive crowds. Beautiful beaches, medieval castles, ancient temples, and stunning artwork shaped by history, with highlights of Greece including:
Greece offers beautiful and postcard-perfect shores, fishing villages glowing with whitewashed walls and blue trim, traditional medieval towns perched on hilltops, and ancient architecture punctuating where the past and present meet. The temperatures change by the region but always contain elements of history that offer distinction to the area. During your Greece Workation package, you can experience how a region of the country focuses on its own ingredients, characteristics, and flavors to make great dishes and offer fantastic activities like: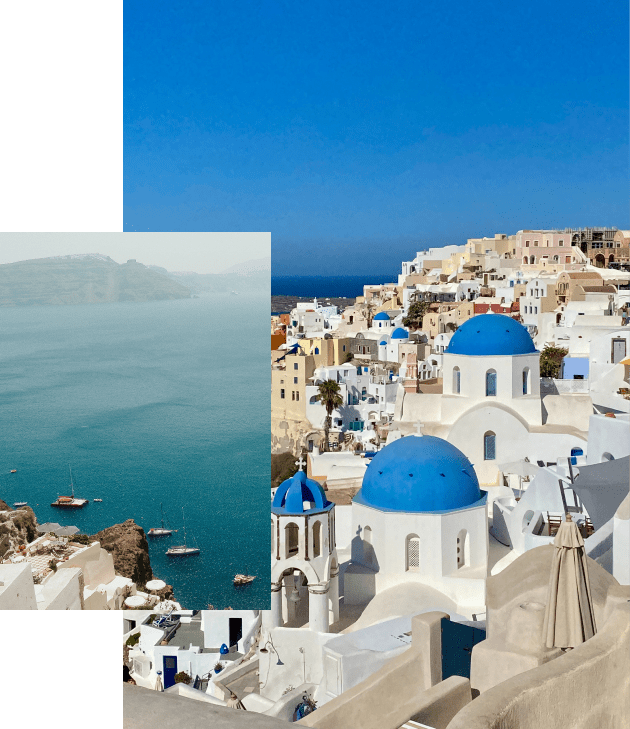 Cities to explore in Greece
Greece's cities and towns demonstrate the changes of Western Civilization across the millennia and the way the past encourages the heritage that remains, influencing today's culture. Shaped by rugged mountains, seemingly endless beaches and secluded cliffs, rich volcanic soils, and temples that speak to the remaining legends, Greece feels like its own world that celebrates its customs with locals eager to share their ideas, history, and more. The collection of things to do and see in the following cities emphasizes the best options for a Greece Workation package sculpted by the quality location, infrastructure, and connectivity: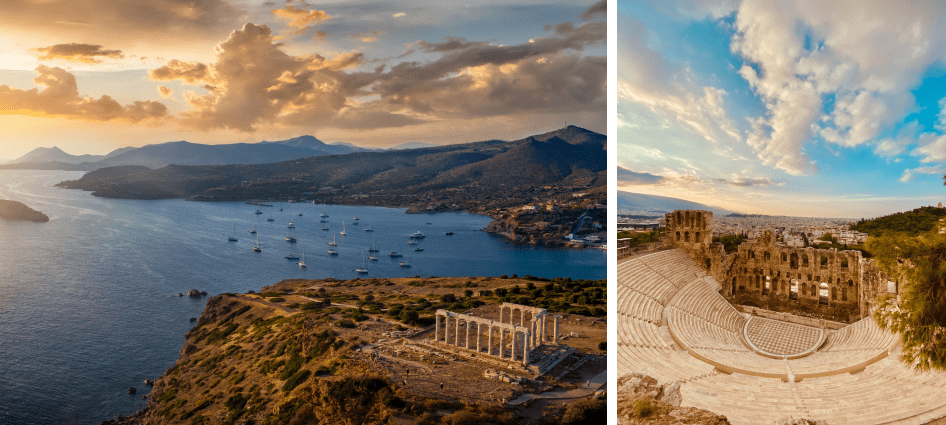 Athens is often considered the "Cradle of Western Civilizations," with the layers of history quickly uncovered around Acropolis Hill and the historic city center. Marble paves the antique streets connecting ancient homes with medieval alleyways and modern culture in view of iconic temples like the Parthenon and the Temple of the Olympian Zeus for an atmosphere unlike anywhere else in the country or world. 
History feels vast but at your fingertips, with local shops representing the pace of modern life and vendors in the marketplace chatting animatedly. Museums reflect the tiers of the city and broader Greece, while locals demonstrate how life is experienced through food, music, friendship, and random acts of dancing. Feast on the local dishes and ancient architecture, the cafe culture and favored desserts, or enjoy the contrast between preserved buildings and contemporary culture that makes a Greece Workation an immersive, joyous, and even luxurious experience blending grit and grace.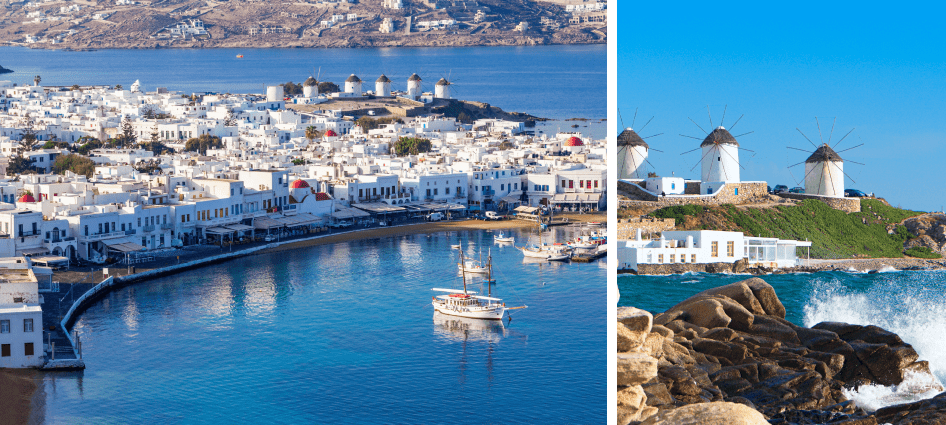 Mykonos is as famous for its natural beauty as its glitzy atmosphere. In summertime, restaurants pulse with an exciting beat, the boutique shops in Chora create elaborate window displays, and the beaches glow with gold sands against the clear turquoise water. Beyond the island's surface of a beach party reputation, Mykonos is a celebrated place to visit for its safe and shallow shoreline offering time to relax, play, or explore.
Towns and villages outside of Chora create the vision of Cycladic Island charm and highlight the beauty of the Aegean Sea. Access ancient ruins, become part of the fashionable dining in elegant restaurants and visiting the roaring resorts, or simply enjoy quieter corners away from the crowds. Mykonos makes ancient history, social discovery, and natural exploration all possible.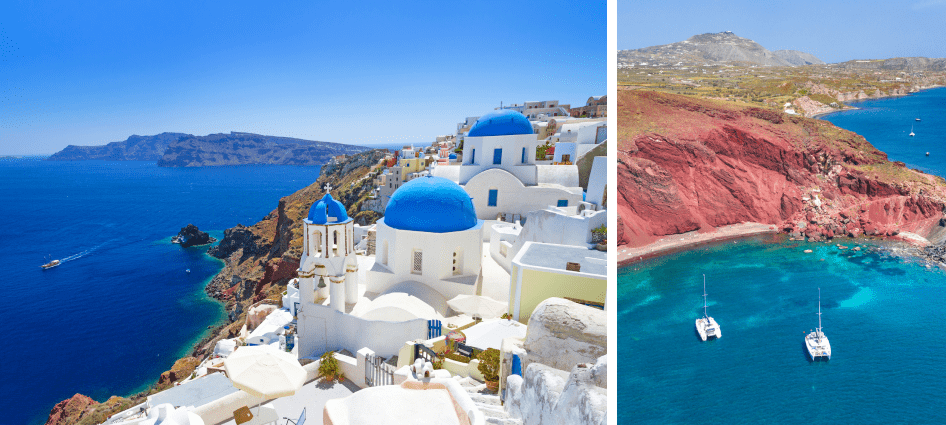 Santorini is the iconic destination in Greece. Home to the famous cliffs of the caldera decorated with terraced buildings covered in white and trimmed with blue. The immense bluffs create a steep semi-circle around the active crater and offer legendary views of the sunset. Towns and villages practically glow with streets paved in marbled or cobblestone, winding up and down the ridges leading to small marinas, historic ports, and ancient cities covered in ash. 
The island can feel like a romantic paradise or a dreamlike getaway colored with beaches shaped by volcanic soil, lit by a captivating lighthouse, and offering a range of activities that can bring enticing adventure or unforgettable views. Find hiking trails, snorkel in crystal-clear sea, sail, horseback ride, or uncover the past for an ineffable Greece Workation.