sample workation itinerary
We have laid out a typical timetable for a Rome Workation in order to give you an idea what a month in the Italian capital has to offer and the services we can provide.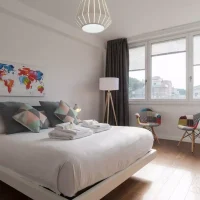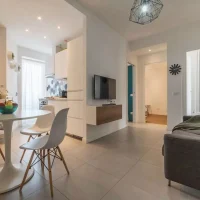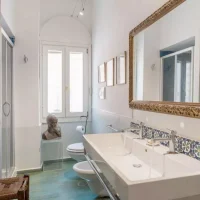 Workation in Rome for a month
Starting at $2,450 per person for a 2 Person Workation
Starting at $3,970 for a Solo Workation
Your Workation Package Includes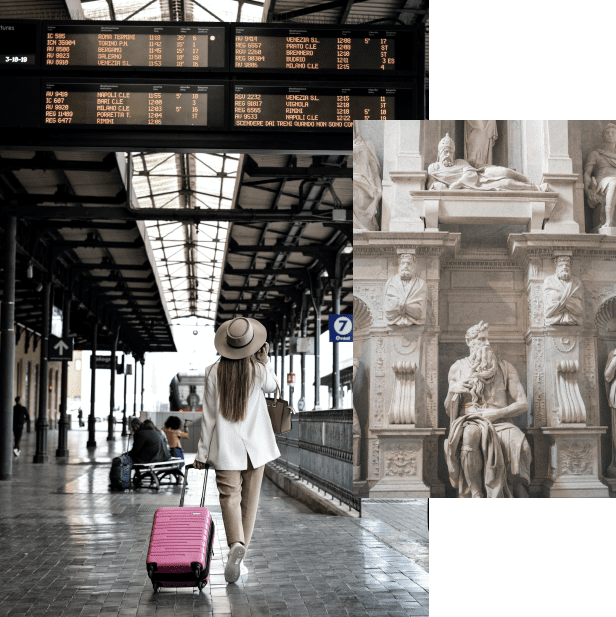 Pre-Workation Coordination
Preparation for your Workation starts long before you touch down in Italy. You'll be in touch with your Local Hero in Rome 1-2 months before departure, so we can get to know you and your preferences better. We want to make sure you get the most out of your time in Rome, so we'll ask about your interests, what you want to see and do, eating choices, any equipment you'll need, and what kind of work schedule you want to keep. We'll provide you plenty ideas and suggestions for your free time.
Your Personalized Destination Guide Web App
After booking you will receive a personalized destination guide web app we've customized for your Workation. You'll find a wealth of information in there about Rome, things to do, and the many services available to make your life easier. We also blog regularly about Rome, covering a wide variety of topics of interest to anyone workationing there. If there's anything you need more help with, just ask your Local Hero!
Welcome to Italy! Upon your arrival at Rome Airport, a driver will meet you and drive you to your apartment. The drive takes about 30 minutes. Depending on your arrival time your Rome Local Hero will meet you after you check-in, or the following morning. At this time they will provide you with a local SIM complete with data as well as a public transport pass to cover you for the duration of your stay.
You'll appreciate the dedicated workspace in your apartment, and the reliable high speed wifi. We can arrange for an external screen or other tech accessories to increase your productivity. We will also stock your apartment with all the necessities (e.g condiments, bathroom essentials, cleaning supplies) to start your stay off smoothly. You'll be pleased to note that weekly cleanings are included in the price.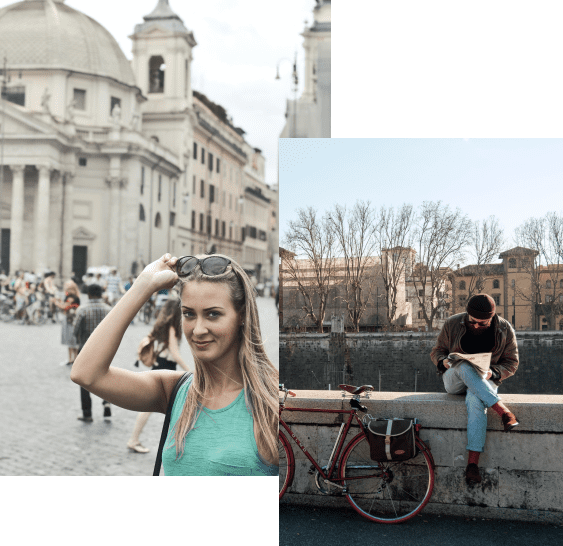 Orientation Walk
with Your Local Hero
Upon arrival, your local hero will help you get settled and show you around your new neighborhood. She will inform you about what this part of the city has to offer. You will be introduced to the local shops, bars, and restaurants as well as other facilities such as gyms, parks, and other entertainment based on your specific needs. She'll also help you get a feel for your location and the connections to other parts of the city using your public transportation pass. She'll even help you install some useful local apps. You'll get information about other useful services like dry cleaning and food/grocery delivery. We will make sure you are well prepared to make the most of your Workation ahead!
We've got you covered with endless additional ideas and services to make the most of your stay. You can request any of the optional extra tours, excursions and getaways to be added to your Workation package now, or at any point after booking.
If you prefer the buzz of a workplace atmosphere, we can include a month's co-working pass, with either a fixed desk assignment of flex-desk. Rome's many co-working spaces mean we can help you pick one that suits you not just in terms of location but also the kind of people you'll be sharing office space with. That makes it an ideal way to meet locals too.
We can include a month's membership at a well equipped gym close to your apartment in your Workation package to help you keep up good habits from home.
If you're already working with a personal trainer, you know how invaluable they can be to insure you maximize your workouts. We realize finding an English-speaking trainer who understands your needs isn't always easy in Rome, so we've done our research. For an additional fee, we will arrange a private personal trainer for you to better keep in shape.
Please ask your Workation advisor for the cost to add these to your package
Learn a new skill or focus on your passion. We are able to arrange a variety of experiences which will both immerse you in the local culture and provide unforgettable memories. Italian wine is among the finest in the world, and it might be enough just to get to know some DOCGs besides Chianti and Barolo. But we can help you go much further than that, with a sommelier qualification you'll return home with a whole new level of wine knowledge. Otherwise pick up a new language, try your hand at cooking classes, perfect your favorite sport or try something new, discover your talent with dance or music lessons, indulge yourself in spa & wellness treatments or hire a business coach. The options are endless and we are happy to help you take full advantage of your time away.
Your first weekend: Getting to Know Rome
If you've been working hard all week, now is the time to appreciate your surroundings and mingle with the locals a little. Your local hero will already have pointed out some of the city's popular spots for locals and foreigners. It being your first weekend, it's time to do the touristy thing and we've got some suggestions for how to spend the whole day in and around Rome's historic city center and the ancient Roman area. After a walking tour that'll give you some historical and cultural background, we suggest ticking off a few more must-dos by touring the Colosseum and Roman Forum. The following day you can get to know Rome, and Italian culture, even better on a food tour.
You'll be introduced to the layout and history of Rome today. Riding comfortable city bikes through the picturesque cobbled streets of the historical center of Rome flanked by beautifully built aristocratic palazzi, our eyes will be enchanted by the white marble churches and they will feast on the famous variety of colors that make Rome unique. This tour is designed to get you oriented in the city and the main sights in the great center of Rome but you should still dedicate some time to going inside the city's signature attractions such as the Colosseum and Roman Forum and the Vatican.
Please ask your Workation advisor for the cost to add this to your package
The Colosseum is the city's most iconic structure, and it's something that can be explored in a number of ways. We can arrange various kinds of tours, by day or night, just the above-ground parts, or including the underground sections that shows how the gladiators and animals were winched up to the arena floor.
Most Colosseum tours also include some time in the Roman Forum next door. This is a must for anyone interested in understanding more about the ancient Roman civilization, so don't skip out after seeing the 'main event'!
Food lovers, here's your chance to experience Rome's enchanting squares and neighborhoods while tasting your way through some of the city's best shops, restaurants, and markets, discovering the secrets of Italian cuisine. Meet your friendly, local expert food connoisseur in the city center, and get ready to stroll through a number of neighborhoods to visit the most famous food markets, groceries, coffee shops, ice cream shops, and restaurants. Taste some of the delicious food and wines the city is famous for, including pizza bianca, mortadella, gelato, and supplì. From fried artichokes or zucchini flowers in the Jewish ghetto to spices and vegetables in Campo de Fiori, you'll ignite your senses and burn some calories while you enjoy walking amongst the beauty around you.
Please ask your Workation advisor for the cost to add this to your package
Ideas for the rest of your Rome Workation
As the capital of Italy, there's always something going on in Rome. The surrounding area of Lazio has a wealth of day trip options, whether you're looking for something historic, outdoorsy or even a beach day. Italy's excellent high-speed rail network makes weekends away in Tuscany, the Amalfi Coast or Bologna easy. We'll help you make the most of your spare time here, so you go home with wonderful memories, and the satisfaction that you lived life to the fullest during your time here.
Optional Day Trips – Explore Lazio
Make the Most of Your Time, Before and After Work
Optional Weekend Getaways
The list of possible weekend getaway destinations from Rome reads like an Italophile's bucket list. Situated at the midpoint of the Italian peninsula, you can go in almost any direction. Cheap internal flights put Sardinia or Sicily in play, but the easiest trips are by train. Florence for the art galleries and Tuscan countryside day trips, Bologna for its impressive food culture and Emilia Romagna's trinity of prosciutto, parmigiano, baslamico. A quick train to Naples opens up a variety of options. Stay there for some intense city time, hop a ferry to glitzy Capri or laid back Ischia, or get a transfer onwards to the storied Amalfi Coast. Once you're there rent a Vespa and ride the coast road, it's a guaranteed thrill! We'll take care of all the details for your weekend getaway, whichever direction you choose.