per person/monthly
based on 2 people sharing
Croatia's second city is a fusion of ancient and modern, from its architecture to its food. With the steep slopes of the Dinaric Alps in the background and the vivid turquoise waters of the Adriatic lapping at its shoreline, Split is blessed with a mild climate and an abundance of beaches, so you're never far from a sundowner spot. Being in the middle of Croatia, Split couldn't be better located.
In Split your friendly local hero is Antonija. Before your trip she'll be in touch to help you prepare for your working vacation and answer any questions. When you arrive Antonija will meet you and show you around town. The whole time you're in Split she's always ready to assist and just a phone call away.
The mediterranean lifestyle is clear here, a culture of taking your time to catch up with friends over a coffee is a habit you might take back home with you. Split likes to party, with some top spots dotted around the Roman ruins. The surrounding countryside affords plenty of opportunities for hiking, climbing, canyoning and rafting. Sailing trips are a must when you've got the Adriatic on your doorstep.
Split will get you hooked on the mediterranean diet, seafood fresh from the Adriatic is on every menu. Though the preparations might be simple, the flavors are a real treat. Meatlovers will fall for the traditional 'under the bell' method of cooking that is synonymous with Dalmatian cuisine. As a bigger city Split's also not short on international food options, from ubiquitous pizza places to excellent sushi.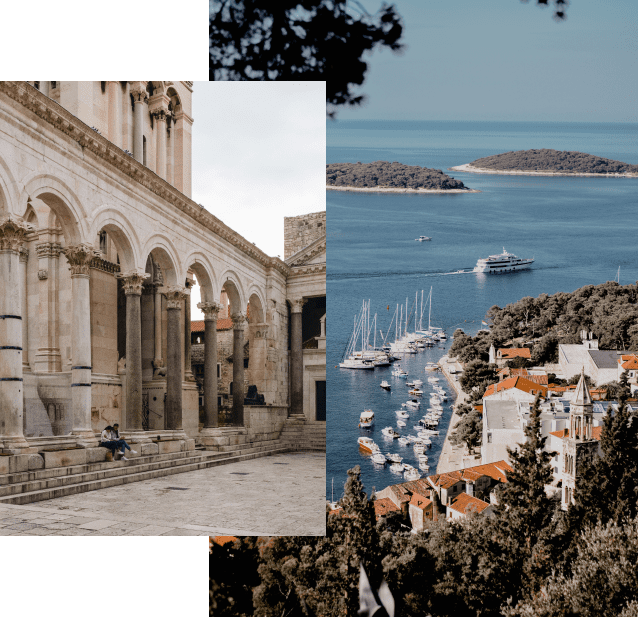 Two breathtaking national parks should not be missed and are within easy reach of Split, Plitvice and Krka. North of Split there are several unique coastal towns that deserve to be explored as they all boast UNESCO listings including Trogir, Zadar and Sibenik. Game of Thrones fans shouldn't miss the chance to visit several of the series' filming locations in the Split area.
Split is the ferry hub of Croatia so you are ideally placed to visit several of the country's most well known islands. Laid-back Brač is known for its stone that you'll have seen plenty of in Split Old Town. Trendy Hvar Town on the island of the same name is a favorite of the yacht crowd. A little further out lies one of Croatia's best kept secrets: Vis is a magical island that remains largely undiscovered.
We have meticulously selected the best accommodations in Split. These options will provide you with all the comforts of home as well as the ideal work space to be productive.
Upgrade your working vacation in Split
They design an invaluable website for you with countless insights.They will take care of transport, coordination, provide accommodation, and activity recommendations, and design an invaluable website for you with countless other insights.
It's the only way to travel.We went on the trip we wanted but we didn't have to do any of the time-consuming planning and we didn't have to worry about any of the logistics. It's the only way to travel. We are so happy with how it all went.
First class service from planning through the end of the trip.First class service from planning through the end of the trip.  Always available to help in any way possible. A great way to have contact and assistance from locals who know the area to make sure you experience everything you can.
They make everything so easy, personalized, and seamless.They make everything so easy, personalized, and seamless, especially as a solo traveler. It's a great mix of guidance and security of having knowledgable, responsive, and effective help a phone call away if needed.
Every detail was taken care of.They made the whole experience very easy. From planning to execution every detail was taken care of. They really took the stress that can accompany overseas travel away and allowed us to just enjoy ourselves and the beautiful surroundings.
Truly the perfect experience.Truly the perfect experience. We didn't have to worry about logistics and were treated like royalty everywhere we went. Andrea answered every question we had. We couldn't have been happier.