Top Foods to Eat in Croatia and Where to Find Them
The food of Croatia is about local, seasonal flavors but also focuses on ways to bring the community together and the top foods to eat and where to find them during your Workation focuses on the joys of food and wine across the country. Eating is an entire ecosystem of purpose, feelings, emotions, history, culture, and tradition all tied into the locality of the cuisine.
In the Western World, fast food and an emotional or cultural disconnection from the food served is more normal. In Croatia, meal preparation and a food culture that emphasizes the joy in each bite creates a unique point at which custom and contemporary life come together.
The combination of the Adriatic Sea and rolling hills, mountain slopes and islands have gifted Croatia with an exceptional variety of ingredients. Its placement has resulted in millennia of connected cultures such as ancient Romans, Celts, Greeks, Venetians, Ottomans, and Russians. Each community has brought their own sense of belonging to the cuisine resulting in a fascinating mixture of Baltic, Slav, Western, and Mediterranean techniques and dishes that will satisfy your hunger.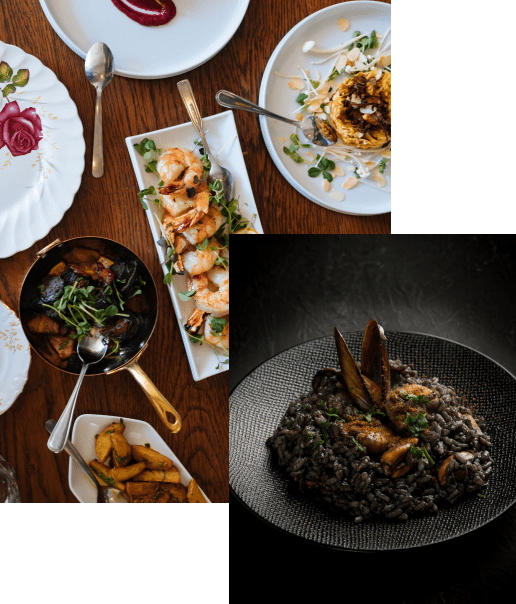 Black risotto is in abundance along the islands and Croatian coastline. Made from the ink of cuttlefish or squid to give it that black coloring, chefs generally also use garlic, red wine, and olive oil to give it a more intense color and flavor. Paella negra in Spain or Spaghetti al nero di seppie in Italy are more famous but Croatia's squid ink risotto is gaining more notoriety for its intense seafood palette that celebrates the briny qualities of the ocean.
The dish has become a staple in a number of the best destinations in Croatia along the shoreline because of its traditional connection to the water and its simple preparation. But when you bite into the dish, you will understand that simple does not mean easy.
The joys of the sea take center stage in traditional brudet, a seafood stew typical along the Adriatica coastline. The most customary brudet includes several different types of white fish and shellfish cooked low and slow in tomatoes, wine, and with aromatics.
Even though it is a dish most often associated with the Dalmatian coast, it's a favorite among locals of the Istrian Peninsula. The traditional meal is cooked in a single pot and dates back to medieval Venice or the fisherman's stew from the Marche region of eastern Italy. No matter where the dish originated, it has become intertwined with the culture of Croatia's coastline for a light, delicious, and yet filling meal, as well as a top thing to do in Croatia when learning how to make the dish.
Fried pastries are a popular dessert across history and the world, and Fritule is the local donut-like sweet treat popular along the Adriatic coast. Made with egg yolks as a base but mixed with customary ingredients like grate lemon, orange rinds, raisins or rum, it's a traditional holiday treat and incredibly addictive because of their general small size, doughy inside, crunchy exterior, and additional flavors.

They are easy to find around the coast but are truly popular around the country, especially nearer to Christmas with locals adding all sorts of modifications to fit their favorite profile including rakija.
Pag Cheese is famously made on Pag Island using sheep's milk, not just any sheep but the renowned PaSki Sir ewe. The salty grass created by the headwinds and little vegetation on the island add to the particular flavor of the cheese, further enhanced by its one-year aging process.
For more context to the popularity of the cheese in Croatia and greater Europe, the island of Pag has 8,000 inhabitants but 40,000 sheep. Rich, flavorful, and with a gentle sweetness, Pag cheese has a unique character that sets itself apart from other sheep's milk cheese in Europe. Enjoy learning about local cheeses and more when personalizing your Croatia Workation package.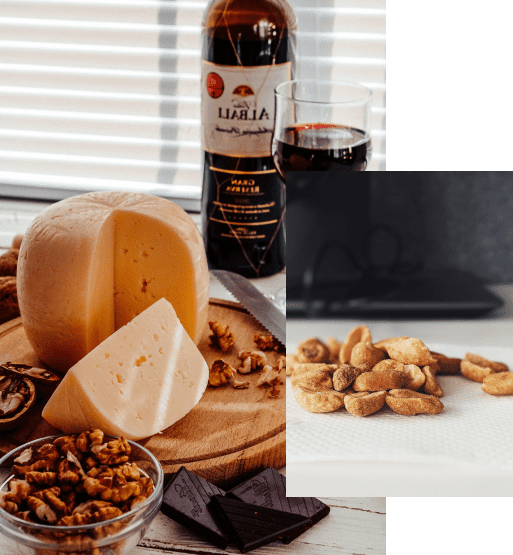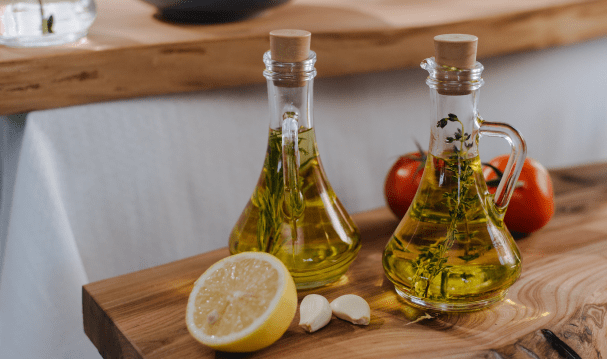 Olive oil in Croatia has a long history dating back to the ancient world and the Istrian Peninsula carries on the tradition of celebrated craftsmanship. Istria is home to some of the most awarded olive oils in the world and can smell of freshly cut grass or hit the back of your throat like black pepper.

The most notable quality, such as extra virgin olive oil from Istria may have the aforementioned flavors but individual producers and small cooperatives can create something truly magical based on their own crops, micro-climates, territories, and the type of olives they use. Trying one does not mean you have tried them all.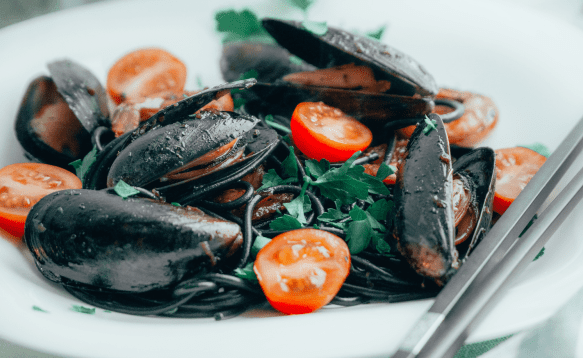 Mussels in Croatia are quality, easy to come by, and cheap making them popular around the entire coastline and islands, especially around southern Croatia. No method for cooking quickly sums up the quality and ease of a mussel dish in Croatia than buzara, specifically "mussels alla buzara," a healthier dish that mixes olive oil, garlic, wine, breadcrumbs, and parsley together.
It is a classic example of Mediterranean flavors and ingredients, as well as a dish that is simple but not easy showing the difference between the top regions of Croatia and where to visit. As with many of the dishes in Croatia, the simplicity of mussels alla buzara means there is no room for error making every ingredient shine both alone and together.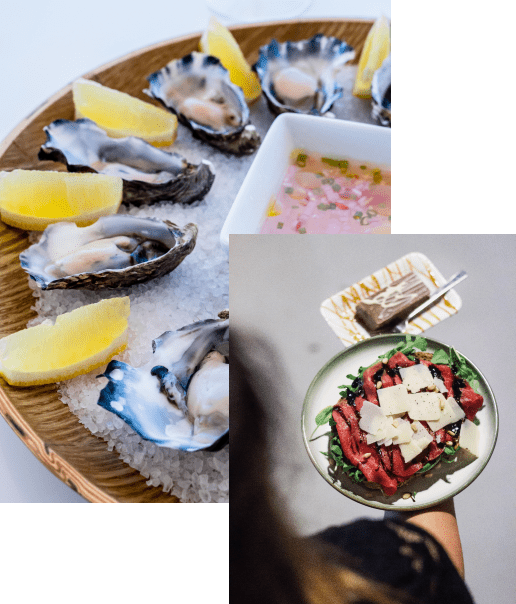 Oysters are one of the most famous ingredients to eat raw when in Croatia. The sea-to-plate idea is similar to the farm-to-table concept, don't waste, use local, use seasonal, and find ways to use the ingredient in its entirety. The intense and briny flavor only adds to the classic interpretation of enjoying oysters in seaside locations while making you feel indulgent.

Some of the most famous oysters come from Mali Ston Bay on the Dalmatian Coast. The natural nutrient blend of mineral-heavy water from the local springs compounds the flavor, adding to the present phytoplankton and sea salt for a perfect, decadent bite every time you crack open the shell.
Boskarin cattle are white, long-horned steer that have become a symbol of the Istrian peninsula. Boskarin Carpaccio is the perfect appetizer to awaken your palate during a spectacular dinner as it shows off the texture and rich flavors of the beef.

The delicate dish is a unique experience that highlights local treasures along with the beef, including shaved white truffles to create an incredible depth and earthy quality. The beef is considered a classic gourmet ingredient because of how the cattle are raised and the maturation process in a controlled environment. Most often is only the highest quality restaurants that will offer a selection of Boksarin beef, let alone carpaccio.
Njoki is the Croatian cousin of the more famous dish, Italian gnocchi and is another favorite of the Istrian peninsula. The dish tends to solidify the relationship between the Venetian Republic and Croatia.

The recipe for the potato dumpling remains the same but the most popular complete dish contains a mixture of njoki and braised beef using the Boskarin beef of Istria. It is a decadent dish with a heavy sauce and intense flavor that feels perfect for a winter night or to crown an indulgent four-course meal.
Fuzi is the most common type of pasta in Istria and specifically refers to its tube shape. The dough is made with thin sheets shaped like diamonds and then folded and pinched together. Fuzi noodles can be the star of a dish or served with other items to become the side dish paired with a chicken goulash or inside a larger stew.
But once again, the simple concoction of fuzi, drizzled with olive oil, and topped with white truffles can demonstrate the beauty of each ingredient better than a more vigorous combination of ingredients. Fuzi is often referred to as the queen of all Istrian pastas, with a lineage considered indigenous to the peninsula. Find more information on what to know before visiting Croatia for Workation.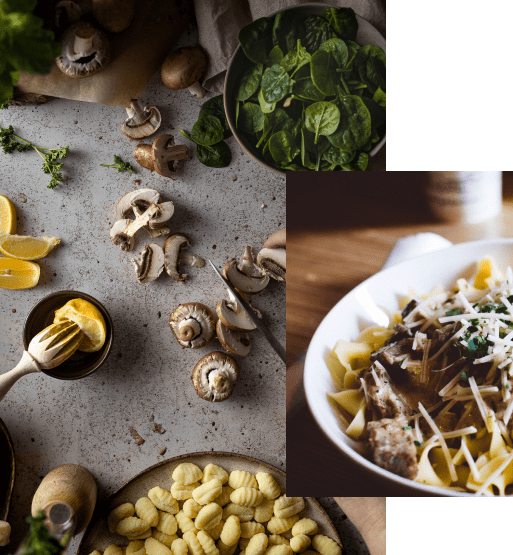 Malvazija is a white wine typical of Croatia but also not well-known outside of Europe. It produces aromas of stone fruits such as apricots, apples, or peaches with a refreshingly simple foundation. Rather than a category of specific grape, Malvazija is more a group of similar grapes that share specific characteristics but can result in remarkably diverse wines, from sweet to dry, and even reds. 
Malvazija wines have powerful aromas and are often relegated to more "sipping" wines, meaning they are meant to be enjoyed slowly and when exploring one of the many most walkable cities in Croatia to visit during your Croatia Workation package. They are mainly grown along the Istrian peninsula and act as the base for exceptional blends.
Teran is an indigenous grape to Croatia mostly found around the western edge of the Istrian peninsula. The grape has become a traditional ingredient in the region, cultivated and used for centuries around eastern Italy, Slovenia, and Croatia. Teran wines generally produce a ruby red, nearly purple color with fruity aromas that hint at red berries and black pepper.

The Teran grape is considered one of the highest quality reds on the market, not just for Croatia but for global wine production because of its robustness. It is particularly popular to pair a glass of Teran wine with local dishes around Croatia like Istrian dried ham, a regional cheese, or even homemade bread.
Gregada is much more than a simple fish stew with potatoes, it is a production of tradition and custom in Dalmatia that has lasted more than two millennia. The dish is said to have been brought by Greek settlers 2,000 years ago, with potatoes added after their introduction to Europe. The simple dish creates incredible layers of flavor by combining thinly sliced potatoes and onions, a drizzle of olive oil, and saltwater fish cooked in water and white wine.

Aromatics such as parsley and celery add more dimensions to the flavor while garlic creates a bit of spice. Some traditional recipes include capers or anchovies for an extra bit of salt. Gregada is still a popular staple among fishermen around the central Dalmatian islands like Hvar.
Soparnik embodies the Croatian culinary tradition as a simple but noteworthy thin pie layered with swiss chard and onion. It was a customary dish around Dalmatia, especially around Mosor and Split, but has spread across the country now listed under Protected Geographical Indications status.

Traditionally it was made in a stone oven and covered with embers, a custom dating back to the time of the Poljica Republic along the Dalmatian hinterland in the 13th century. Its cheap ingredients made it a savory mix of bitter greens and buttery, flaky pastry crust once used mainly as a fasting dish for holidays like Good Friday or Christmas Eve.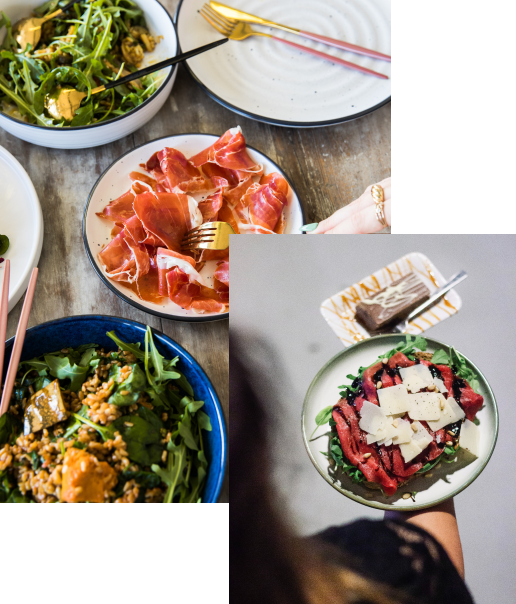 Prsut is the official proscuitto of Croatia. The dish is most often associated with Italian cuisine but the cured, smoked, and dried ham has a long history in Croatia and is often paired with cheeses or melons for a delicious combination of flavors. Prosciutto in other countries has become produced in mass due to its historic popularity and fame but Croatia's Prsut remains an artisanal process, focused more on flavor and sliced by hand as opposed to a mechanical slicer.

Locally raised animals that graze on the surrounding foliage and greens, air-dried and rubbed with sea salt, black pepper, garlic, laurel, and rosemary during the drying process create the specific tasty layers found in every bite. The most famous prosciutto in Croatia is typically from Krk Island, which is well known for the ease in which it creates the flawless flavor, especially around the village of Vrh.
Wild asparagus in Croatia is a favorite ingredient to forage for many locals. It grows between March and May but, depending on the region, can also blossom until june. Preferring partial sun near olive groves, many Croatians find the secret delicacy around prickly bushes. Their stalks are thinner than the grocery store variety and their flavor is much more pronounced because of how they absorb teh surrounding nutrients in the soil.

With a higher rate of potassium, calcium, and fiber, the amount of health benefits from wild asparagus versus farmed asparagus demonstrates part of its appeal to foragers, on top of its favored flavor.
The celebrated Croatian dessert consists of sponge cake soaked in chocolate sauce and dipped in shredded coconut. It is more often homemade and popular through Croatia, as well as its neighboring countries. The origin of the dessert is unclear but chocolate only became available in Europe in the mid-16th century and coconut wasn't widely available until the late 16th century. 
No matter its genesis in Croatia, the word "Cupavci " means fuzzy relating to the shredded coconut around the outside and is a delicious treat in private households around Christmas. Cupavci are often compared to Australian Lamingtons, and though similar, their differences add to the legendary flavor and popularity across Croatia. 
Find the Best Food to Eat in Croatia on Your Workation
The food of Croatia is an essential introduction and immersion into the past, present, and future of the country. In a large city like Zagreb, at a coastal restaurant in Split, or at a hidden vineyard in the Istrian Peninsula, each place can give you a unique taste of local flavors and the traditions that have shaped once-private recipes. 
The Best Time to Visit Croatia for Workation can introduce you to wine, truffles, seafood, and more, all embodying the essential ingredients that celebrate Croatian culinary vibrancy.  You can enjoy gourmet dishes or robust home cooking as you discover Croatia's divine food while celebrating an essential work-life balance.