6 Ways to Travel Around Croatia
The easiest way to travel around Croatia is by private car. Public transportation is reliable and easy to navigate but can take a lot of time that would take away from your touring, living, or working during your time in the country. The roads around the country are well-tended and effortless to navigate. 
On a budget, traveling in luxury, or interested in island hopping, Croatia does have a great infrastructure for travelers, even with the unique contours of the border. Travel within Croatia is pretty straightforward but does have its share of challenges when looking at certain places not well-served by public transport.
Flights, ferries, buses, private cars, and also cycling can have great advantages depending on how many days you visit, your schedule, and how you like to travel. The seasons can also play a big role in how you explore. Our list of ways to travel around Croatia covers the different types of transportation you can use but how you ultimately travel is up to you during your Workation.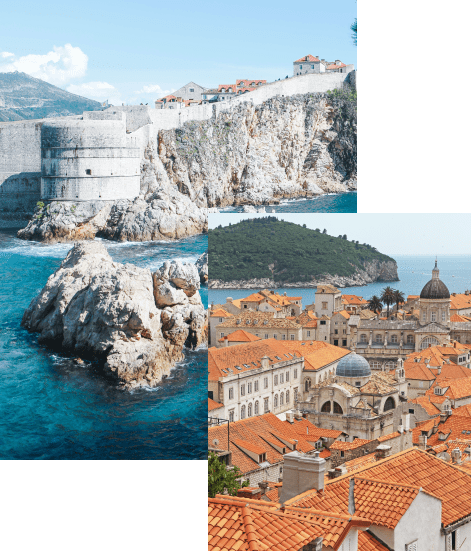 What are the different ways to travel around Croatia?

The trains in Croatia are limited but still have comfortable seating and an easy system to navigate making them a great option when looking for a scenic route. They generally travel slower than buses but offer more space, better scenery, and travel using Zagreb as a main hub more often connecting to the interior. The two main coastal cities linked by train run from Zagreb to Rijeka or Split, offering a unique way to visit some of the best destinations in Croatia for Workation. When visiting on a short timeline, it's better to travel more efficiently depending on where you are going and the kind of experience you want. The key thing to remember is that all types of trains do not operate on all routes. 
Traveling by car in Croatia gives you the most freedom and can often result in the fastest way between two places. The updated infrastructure makes it especially easy to travel long distances around Croatia, such as between Zagreb and Dubronik, or short distances between towns like Pula and Rovinj on the Istrian Peninsula.
When traveling by car, you can rent or hire a private driver for all your transfers or tours. A private driver has the benefit of local knowledge and experience which can lead you to hidden gems or avoid the local traffic, it also gives you the chance to sit back, relax, and enjoy the ride with easier access to the top things to do in Croatia during your Workation package.
Bus is an easy and cheap way to travel around Croatia. It is not the most luxurious method for travel but the consistent bus schedules and the vast network touches all major cities and a number of towns throughout the country passing easily between the different regions of Croatia and where you should visit. Seasonality does affect the number of buses available, with routes decreasing when summer ends. 
Some connecting routes may stop running completely between November and April, especially along the coastline. The islands have local buses that can crisscross the interiors or circumvent the coastline. These types of buses generally run year-round providing local connections and support rather than intercity transfers.
Ferries in Croatia make it easy to travel between islands, archipelagos, and a number of coastal cities. An extensive fleet of ferries and catamarans help transport travelers during the high and shoulder seasons but severely diminish their routes in winter.

During summer, especially in July and August, the ferries can be extremely crowded because of the popularity of the islands and their famous beaches. Ferries are also a cheaper way to travel between the islands if you are not also transporting a car. In reality, depending on how you want to experience Croatia, it's likely that at some point during your trip, you will board at least one ferry.
Flying is one of the quickest and best ways to travel long distances across Croatia but this also depends on where you are traveling to and from. Routes from Zagreb often connect to more destinations such as coastal cities or even islands. Planes often have fewer routes connecting coastal cities no matter the time of year and are perfect ways to travel during most Croatia Workation packages.
When thinking of longer travel routes, transferring between Pula and Dubrovnik is a perfect example of successful, easy, and cheap routes that can save you a lot of time. Unfortunately not all domestic routes are as accessible and quick with some routes stopping in Zagreb for long layovers that lead to a flight time longer than the drive.
The best general routes to take when flying inside Croatia include:
Zagreb to Dubrovnik
Zagreb to Pula
Zagreb to Zadar
Zagreb to Split
Zagreb to Brac
Flights will most likely be available without layovers or long delays when starting from or ending in Zagreb, Croatia's capital. The city is one of the largest airports in the country and has flights from major European cities year-round.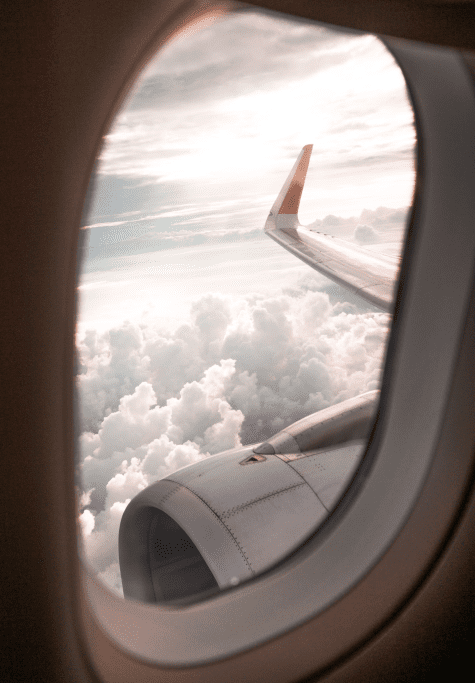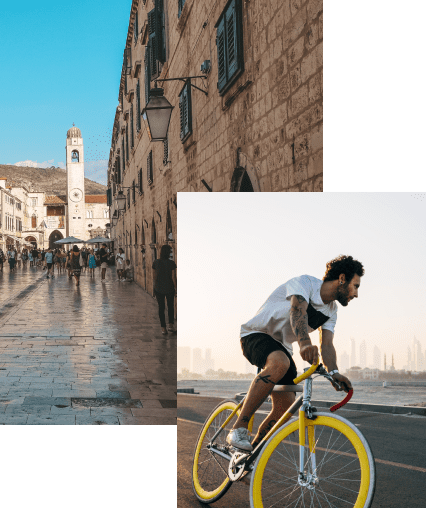 Bicycles are fast becoming one of the most popular ways to explore Croatia, or at least smaller regions of the greater country. Cyclists or travelers interested in a slower rate of discovery often focus on a more immersive experience in a smaller area, such as cycling around the Istrian Peninsula or choosing a specific island.
The scenic diversity makes Croatia a great place to cycle around in every season, giving views of mountains, Mediterranean coast, or frozen river valleys. Many local areas have routes that are easily marked on maps and by signage; Zagreb also has a great cycling infrastructure making it easy to explore the city. Cycling between towns or around islands lets you experience the slower pace of life, visit local villages and wineries, or stop at beaches along the way as you enjoy the freedom of traveling at your speed, especially when cycling during the best time to visit Croatia on your Workation.
What should you consider when traveling around Croatia?
Seasonality is something you need to consider when traveling around Croatia, especially if you want to visit islands both in and out of season. During the summer, public modes of transportation, such as buses, trains, and ferries are crowded. Even with expanded routes, planning ahead is essential for transferring between places with ease. 
When traveling in winter, bus routes are diminished and the number of ferries between islands is much more intermittent. It is essential to research the seasonal schedules for the different methods of transportation you plan on taking. Planning your Croatia trip with Workation takes away any guesswork and makes your vacation, experience, and transfers seamless, no matter how you prefer to travel. Find out more with our information on what you need to know before traveling to Croatia.  
Is public transportation accessible when traveling in Croatia?
Transportation of all kinds is accessible when traveling in Croatia, including public transportation. The reality of public transportation is that it's best for travelers worried about their budget or solo travelers who do not have the funds or desire to spend a lot on transfers. Public transportation is great when looking at ways to explore a specific city without a guided tour or when looking to save money on an aspect of your travel.
The ease and cost of public transportation take away the flexibility and luxuries of traveling with a guide, a private guide, or a private driver. It also is much more limiting in terms of its reach but can also give you the chance to enjoy the best walkable cities in Croatia.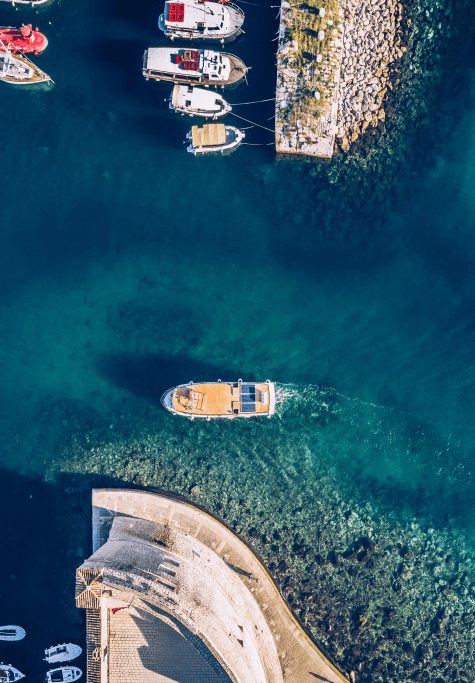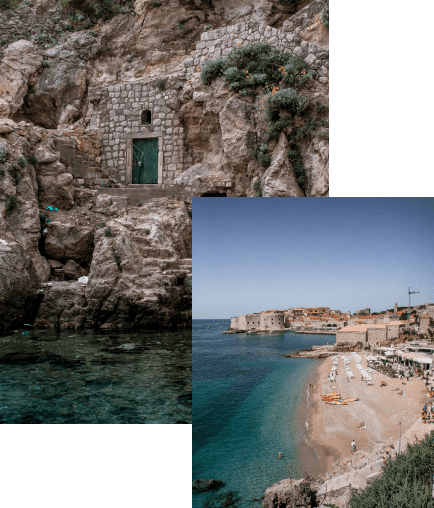 Find the Best Way to Travel Croatia for Your Workation
No matter how you choose to travel around Croatia, you can spend time sightseeing in beautiful hinterlands, stopping in medieval villages, or crisscrossing major cities to experience more of what the country has to offer. Cycle the countryside or enjoy a luxury car service from door to door; every travel style has its merits that can help you discover the wonders of Croatia as you celebrate the work-life balance.
Find information that can guide your expectations before speaking with Workation to help plan your visit to Croatia for your best time. When you are ready, allow us to maximize your productivity and emphasize your connection to the country by understanding the local life and culture you want to experience. Take one step closer to planning your Workation or find more information with our ideas on Best National Parks in Croatia and Why You Should Visit Them.